Winter & Summer Schools
KNUST-ETH Global Development Summer School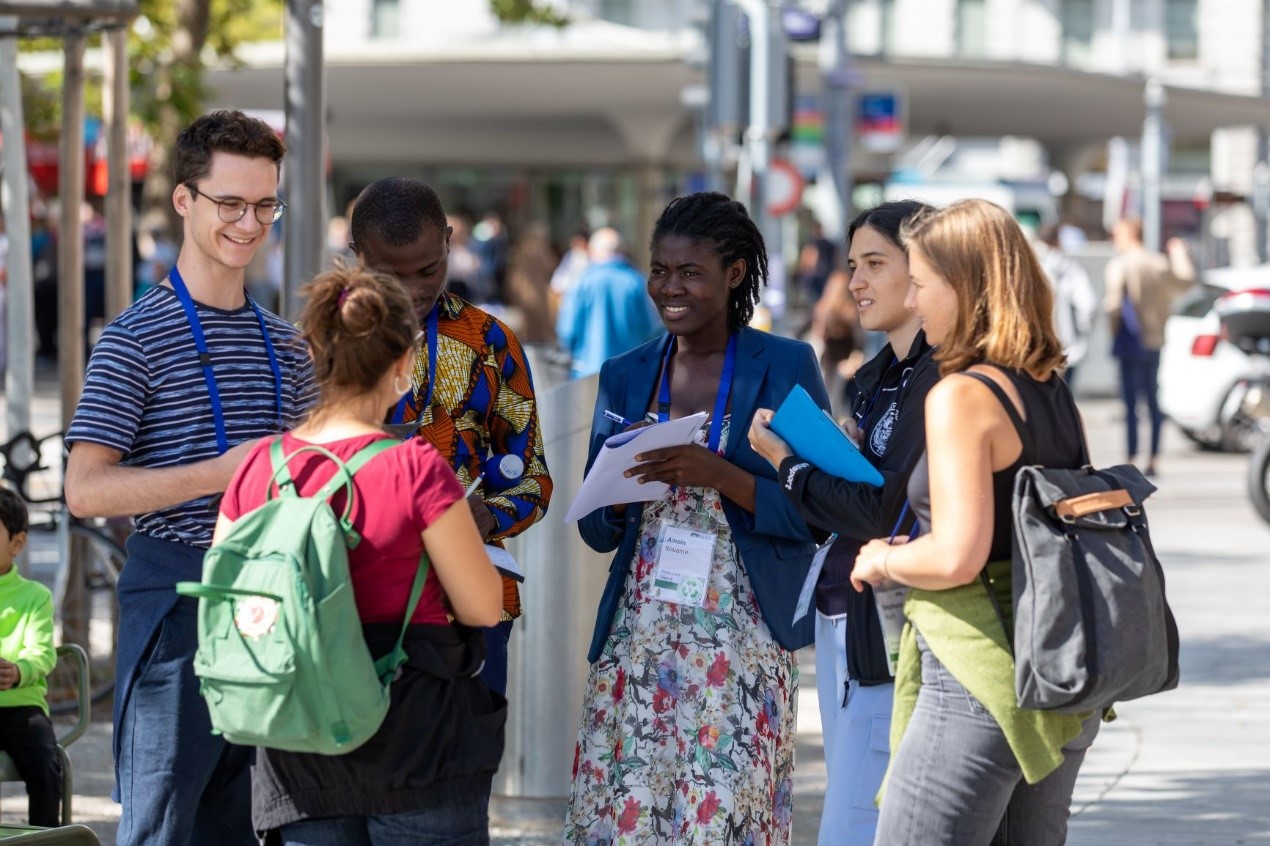 The Global Development Summer School is a collaboration between ETH for Development (ETH4D) and Kwame Nkrumah University of Science and Technology (KNUST) in Kumasi, Ghana. It provides students and young researchers the opportunity to develop and test solutions for real-world challenges. Students will work in interdisciplinary and multi-national teams. In addition to acquiring theoretical knowledge, a premium is placed on real-life implementation and case studies. The Global Development Summer School is open to Bachelor, Master and Doctoral students from KNUST and Swiss universities as well as recent graduates of these universities (up to 5 years since graduation).
Summer School 2022: Rethinking Waste - Sustainable Solid Waste Management
This year's Summer School will focus on the topic of sustainable solid waste management for three waste streams - organic, plastic and electronic waste. Through a series of lectures, discussions with experts, site visits, community engagement and design thinking exercises, you will have the opportunity to develop and test your creative solutions to identified solid waste management issues while working with like-minded students, researchers and practitioners from Ghana and Switzerland who are at the forefront of developing and implementing global solid waste solutions.
Curriculum
The programme is built upon four main foundations. A Series of Lectures establishes the theoretical framework of the programme. The Knowledge Fair puts the students in touch with some of the most forward-thinking researchers and practitioners in Ghana and Switzerland for valuable inputs to challenge and further develop their ideas. Fieldwork and Site Visits give students an opportunity to engage directly with local activists, start-ups and solid waste management plant managers in Zurich and Kumasi areas, using the cities as living laboratories for study. The Prototyping Workshops follow the design thinking process at the core of the programme and hone fundamental fabrication skills, empowering students to craft their own design solutions. Working in interdisciplinary and multicultural teams, students develop a project from design conception to prototyping, and present the concept note and final results of their work consecutively at the beginning and end of the programme to their peers, experts and guest judges.

Why should I join?
Identify and explore the major discussions around sustainable solid waste management and circular economy
Acquire methodological competence as you develop a project that spans from concept to prototype
Develop interdisciplinary and multicultural competences as you experience how to work effectively in teams
Connect with a global network of highly motivated students, faculty and practioners
Earn 3-ECTS points
Have fun with new faces
Join as a Participant
Applications are closed.
The Global Development Summer School "Rethinking Waste" is aimed at Bachelor, Master and Doctoral students of KNUST, Ghana, and Swiss universities as well as recent graduates of these universities (up to 5 years since graduation) from all backgrounds and disciplines. No prior experience in waste is necessary. Applicants will be evaluated on their academic strength, creativity, technical-related expertise, and dedication to contribute to solving the world's most pressing challenges.
Limited slots are available for highly motivated students from other Universities near Zurich city.
Application Requirements for Participants
Currently enrolled as Bachelor, Master or Doctoral student of KNUST, Ghana, or

Swiss universities or a recent graduate of these universities (up to 5 years since graduation).

Completed application form

Statement of motivation detailing how you can contribute to solving pressing challenges of one of the three waste stream: organic, plastic or electronic waste

Curriculum Vitae

High resolution passport size photograph (in PNG, JPEG, JPG format only)

Personal profile in a maximum of 100 words providing the following information:
1) your name, programme of study and university
2) why you think the topic of "Rethinking Waste" is relevant now
3) what you expect to take home from the interdisciplinary and intercultural process of this summer school
Still have questions? Please .
Students of ETH Zurich will be awarded 3 ECTS upon successful completion of the programme. Please subscribe for the course 701-1504-00L for Spring Semester 2022 on myStudies. Students from other institutions will be responsible for organising the transfer of credit points.

Fees
Selected applicants will be required to pay a participation fee of 500 CHF as contribution to the programme costs. The programme will cover full board meals, lodging (13 nights), travel to excursion sites, and other scheduled activities during the programme.
Funding
A limited number of scholarships are available for students already on ETH Zurich's need-based scholarships. Please indicate on the application form and upload proof of your financial status for consideration.
Please note that the health and safety of all participants is our priority. During the summer school, we will adhere to the most recent guidelines of ETH Zurich and the BAG (the Swiss Federal Office of Public Health). We will also abide by the rules of our lodging, excursion, teaching and learning locations. We reserve the right to adapt or cancel the summer school at any point in time if new guidelines from either the ETH Zurich or the BAG require us to do so.
KNUST-ETH

Global Development Summer School 2021